Special counsel named to investigate Biden classified documents
White House says classified documents were found in Biden's garage in Delaware
U.S. Attorney General Merrick Garland announced Thursday he was appointing Robert Hur to serve as a special counsel to review classified material found in President Joe Biden's Delaware residence and a Washington office he used.
Hur, now a lawyer at a Washington, D.C., firm, was the U.S. Attorney for Maryland during the Trump administration, and is also the former principal counselor to former Deputy Attorney General Rod Rosenstein, who oversaw the Mueller investigation.
Garland said Hur's appointment "authorizes him to investigate whether any person or entity violated the law in connection with this matter."
Garland said the move was necessary because of the "extraordinary circumstances" involved. "I am confident Mr. Hur will carry out his responsibilities in an even-handed and urgent manner," he said.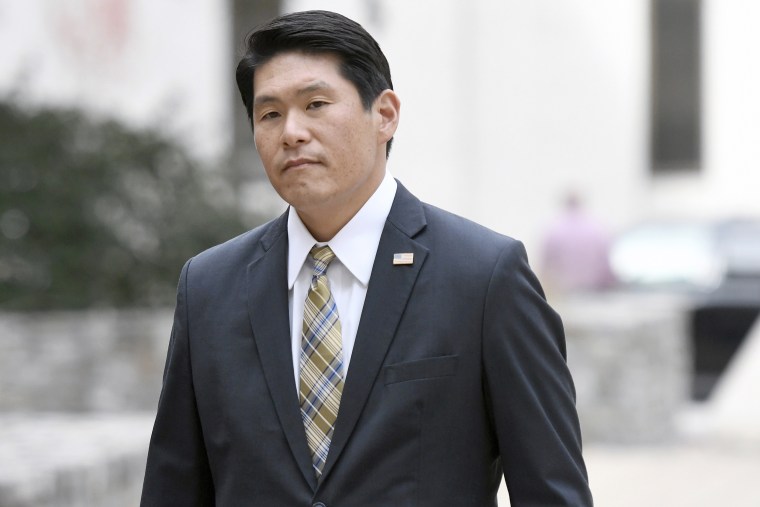 In a statement, Hur said: "I will conduct the assigned investigation with fair, impartial, and dispassionate judgment. I intend to follow the facts swiftly and thoroughly, without fear or favor, and will honor the trust placed in me to perform this service."
The move came after the White House acknowledged publicly on Thursday that classified Obama administration documents were found in one of Biden's Delaware homes. This came after confirming Monday that documents had been found in a Washington office.
Garland said the DOJ was told about the documents in Biden's home on Dec. 20. Biden's lawyer informed the Justice Department on Thursday morning that one other document had been found in the home, Garland said.
Garland had previously asked John R. Lausch, the U.S. attorney for the Northern District of Illinois and a holdover appointed by former President Donald Trump, to review how classified material ended up in a locked closet in a Washington, D.C., office that had been used Biden after he left office in 2017, a source familiar with the matter told NBC News earlier this week.
Garland said Lausch briefed him on his findings on Jan. 5, and "advised me that further investigation by a special counsel was warranted." Garland said he agreed but did not elaborate further.
Multiple aides who worked for Biden in the final days of the Obama administration have already been interviewed by federal law enforcement officials, two people familiar with the matter told NBC Thursday.
In a statement released Thursday, Richard Sauber, a counsel to Biden, said the additional documents were found during a search of Biden's two Delaware homes. He did not say how many there were or their level of classification.
No documents were found in Biden's Rehoboth Beach residence.
In a second statement after Garland's announcement, Sauber said: "We have cooperated closely with the Justice Department throughout its review, and we will continue that cooperation with the Special Counsel. We are confident that a thorough review will show that these documents were inadvertently misplaced, and the President and his lawyers acted promptly upon discovery of this mistake."
In brief remarks to reporters Thursday, the president said the documents were found in "storage areas and file cabinets in my home, in my personal library."
Asked why he'd had classified documents next to his Corvette in his garage, Biden said, "My Corvette's in a locked garage. It's not like they're sitting out on a street."
He then added that "people know I take classified documents and classified material seriously."
Biden: 'I take classified documents and classified materials seriously'
JAN. 12, 202301:11
Sauber said the Department of Justice was "immediately notified" about the find, and Biden's lawyers arranged for DOJ to take possession of the documents.
The White House said the search was completed Wednesday night.
It's unclear why Biden's homes were just being searched now. Sauber acknowledged earlier this week — following a CBS News report — that some classified documents had been found on Nov. 2 in a Washington office that had been used by Biden.